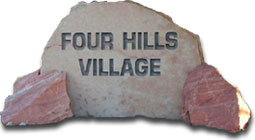 WELCOME TO THE FOUR HILLS VILLAGE
NEIGHBORHOOD ASSOCIATION
a City-recognized association
Our purpose
To promote the general welfare and well-being of residents and property owners in Four Hills Village (FHV)


To reflect their majority consensus, and


To facilitate the involvement and opinions of its membership.
Although the FHV Neighborhood Association does not charge dues for membership, we gratefully accept voluntary contributions to offset costs. Donations can be made via a secure PayPal transaction (button at left) or sent to FHVNA, PO Box 51675, Albuquerque, New Mexico 87181-1675.
---
Want to Help Four Hills Village?
June 3rd, 2015: We need YOU to join the Four Hills Village Neighborhood Association Leadership Team! The nominating committee is now accepting applications from members interested in helping our Association grow and making Four Hills Village an even better place to live. The time commitment is minimal and almost all work is done via e-mail, so please consider volunteering a few hours a year to our beautiful neighborhood. It's important that we accurately represent our members to City officials, and we need your help to do so. To apply, contact Victoria at
treasurer@fhvna.org
.
---
Updates
Security Report

FHVNA Policy & Procedures Regarding Covenants and Architectural Control

Plans