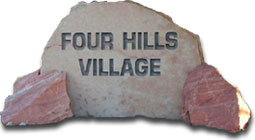 WELCOME TO THE FOUR HILLS VILLAGE
NEIGHBORHOOD ASSOCIATION
a City-registered* Neighborhood Association
Our purpose
To promote the general welfare and well-being of residents and property owners in Four Hills Village (FHV)




To reflect their majority consensus, and




To facilitate the involvement and opinions of its membership.
Welcome
It's easy to participate in the Four Hills Village Neighborhood Association, just
email us
or complete our short
information form
. Dues are optional, but are very much appreciated to defray our overhead. You can mail voluntary dues to: FHVNA; P.O. Box 51205; Albuquerque, NM 87181-1205.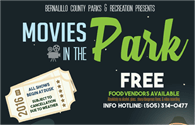 2016 Movies in the Parks
[April 20, 2016] Bernalillo County Parks & Recreations announces their 2016 schedule for
Movies in the Park
, a free series of family-friendly movies in various ABQ Parks. The series kicks off on Saturday evening,
April 30th, at dusk
with
Monsters, Inc.
at the Westside Community Center, 1250 Isleta Blvd. SW. For the complete list of movies, see their
flyer
(pdf).
Neighborhood Updates
Bernalilo County Sheriff's Newsletters
Bernalillo Count Sheriff's March 2016 Newsletter
(pdf) - crime statistics and crime reduction tips.
Bernalillo Count Sheriff's February 2016 Newsletter
(pdf) - Next Door, how to ID a meth lab, street safety tips.
Bernalillo Count Sheriff's January 2016 Newsletter
(pdf) - winter storms, auto theft advisories, crime & safety tips.
Road Condition Updates
Road Advisory Hotline, call 511
Check
nmroads.com
(pdf) for latest road conditions; sign up for email/text alerts by downloading their mobile app
NM Department of Transportation Traffic Reports
NMDOT District 3 Traffic Report - 03/04/16
(pdf) [03/10/16]
NMDOT District 3 Traffic Report - 02/04/16
(pdf) [02/17/16]
City of Albuquerque Planning
City of Albuquerque's Planning Department's Report on issues Facing ABQ/BernCo
(pdf) [08/20/15]
Other Notifications
Notice of Intent to Construct Well #15 Emergency Generator
(pdf) an application for an air permit modification being submitted to the Albuquerque Environmental Health Department Air Quality Division for Air Quality Permit #1786-M2 on Kirtland AFB. [11/30/15]
Welcome Shane Rogers, New APD Foothills Area Commander
(pdf) [08/08/15]
Policy & Procedures Regarding Covenants and Architectural Control
(pdf)
Plans
Rio Metro Draft Transit Plan
(pdf)
*the difference between a City-recognized and City-registered Neighborhood Association is one of name only: both file the same paperwork, both are approved by the City of Albuquerque, and both receive the same notifications.