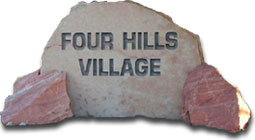 WELCOME TO THE FOUR HILLS VILLAGE
NEIGHBORHOOD ASSOCIATION
a City-recognized association
Our purpose
To promote the general welfare and well-being of residents and property owners in Four Hills Village (FHV)


To reflect their majority consensus, and


To facilitate the involvement and opinions of its membership.
Although the FHV Neighborhood Association does not charge dues for membership, we gratefully accept voluntary contributions to offset costs. Donations can be made via a secure PayPal transaction (button at left) or sent to FHVNA, PO Box 51675, Albuquerque, New Mexico 87181-1675..
---
Neighborhood Alerts
Recycling Stolen
Dear Foothills Area Command Neighbors,
I had a call today from a gentleman in the Tramway/Lomas area who reported that he and his neighbors have witnessed two women driving the area and stopping at homes to take recycling left for Solid Waste pick up. This has occurred over the past three weeks on their block. I have reported this to Solid Waste and our Foothills Command Staff and beat officers.
I'd like to ask you to be aware and be very careful about what you are leaving for recycling (personal papers, any type of information that could be used for identity theft purposes). Granted, what is on the curb is usually treated by others as free for the taking, but please be very careful with what you leave outside for recycling pick-up. I recommend using a cross-cut shredder for any items that you even suspect could possibly be used for identity theft.
I checked with my counterpart at the NE Area Command and they have had reports of this behavior too, but with things left for charity pick-ups.
This is occurring on trash pick up days between 7:30 am and 1:00 pm and there are two (possibly) Native American women in their 20's – 30's driving a white vehicle (either Pontiac or Olds), one woman is heavy and the other is thin; they drive slowly on the block, jump out of the car and toss the paper recycling into their car and speed off.
Please be careful with what you leave outside for pick up and always keep your garage doors closed and valuables out of sight. If you spot suspicious behavior in your neighborhood, please call 242-COPS (2677).
Stay safe,
Jill Garcia, Crime Prevention Specialist
APD, Foothills Area Command
April 30th, 2012
Door-to-Door Solicitation/Vendors
Dear Foothills Area Command Neighbors,
It has come to my attention that there is a magazine solicitation ring working the North East Area Command and the Foothills Area Command in our city. The fraudulent company is *United Circulation, LLC* and they are sending out teams of young males and females stating they are selling the magazines to raise funds for their debate team to go to another city or out of the country.
Please do not let these people in your home, do not allow them to use your telephone, do not write them checks or give them money! These people are not licensed, do not have City of Albuquerque permits to operate and are being aggressive and angry with residents who are not buying their subscriptions. This is a scam --
please call 242-COPS
to report this activity if you encounter this type of activity in your neighborhood!
Thanks, and be safe,
Jill Garcia, Crime Prevention Specialist
APD, Foothills Area Command
March 27th, 2012
---
Recent Updates
Security Report

East Central Sector Development Plan - Paula Donahue, City of Albuquerque, January 2009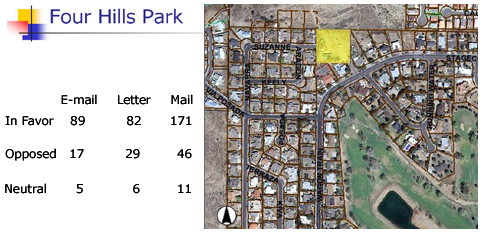 Results of Park Survey
Foothill Area Command Newsletter for January 2009

August 2008 Workshop Summary for the East Gateway Sector Development Plan

FHVNA Policy & Procedures Regarding Covenants and Architectural Control

PLANS