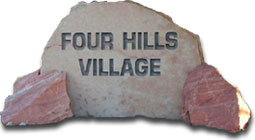 WELCOME TO THE FOUR HILLS VILLAGE
NEIGHBORHOOD ASSOCIATION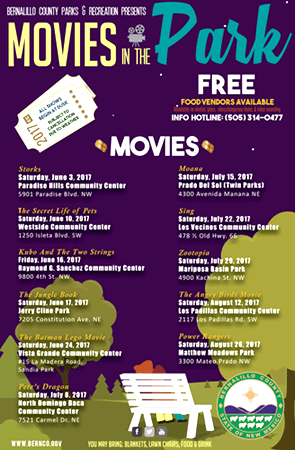 2017 Movies in the Parks
[June 1, 2017] Bernalillo County Parks & Recreations announces their 2017 schedule for
Movies in the Park
, a free series of family-friendly movies in various ABQ Parks. The series kicks off on Saturday evening,
June 3rd, at dusk
with
Storks
at the Paradise Hills Community Center, 5901 Paradise Blvd. NW. For the complete list of movies, see their
website
.
Unexpected Protrusions on Stagecoach
[December 15th, 2016] - We contacted the City to get information on the unusual protrusions that recently cropped up on Stagecoach near the FHV park. These inexplicable lumps impede all movement in the bicycle lane, forcing pedestrians and cyclists alike to enter traffic to avoid them. Here is Councilor Harris' reply:
As you know, it took over a generation to get a park built in Four Hills. The Neighborhood Association was very helpful in that endeavor and in particular the Neighborhood Association publicized the wide ranging support for the park when there were some people in the community that were vocal and resistant.
Unfortunately, because we had to squeeze a park into an already established neighborhood, we did not have many options. In fact, we only had one reasonable one--the mostly vacant land that was owned by the Country Club.
That land has a major challenge--there is a site line problem for cars pulling out of the park especially with cars coming up the hill. We had the Department of Municipal Development ("DMD") do an in depth study to ascertain the best way to make the intersection between the park and the main road safer.
The bulbouts (and associated signage, reflectorized pavement markers and striping) were installed as a traffic calming measure to slow down the vehicular traffic in this area due to limited sight distance for people leaving the Four Hills Park from Running Water. There is a vertical curve just east on Stagecoach Road. Bulbouts are used to provide a visual narrowing of the road which tends to slow drivers down and give vehicles and pedestrians a little more time to cross the westbound/southbound travel lane and head eastbound more safely. It also provides pedestrians a narrower road to cross as well.
There is a misunderstanding in Four Hills regarding the striping on Stagecoach and Wagon Train. Those are parking lanes not bike lanes. People can and do park their cars there and a bicyclist has no expectation to be able to ride in the parking lane without having to weave around parked cars if they choose to. The bulbout is no different.
I've attached the
layout drawing
(PDF) for this work. I hope this helps and thank you for your service and to reaching out.
UPDATE: We have since learned that these bulb-outs are used to narrow the road to protect pedestrians crossing the street near the FHV Park.
Our purpose
To promote the general welfare and well-being of residents and property owners in Four Hills Village (FHV)




To reflect their majority consensus, and




To facilitate the involvement and opinions of its membership.
Welcome
It's easy to participate in the Four Hills Village Neighborhood Association, just
email us
or complete our short
contact form
. Dues are optional, but are very much appreciated to defray our overhead. You can mail voluntary dues to: FHVNA; P.O. Box 51205; Albuquerque, NM 87181-1205.
Covenants
Policy & Procedures Regarding Covenants and Architectural Control
(pdf)