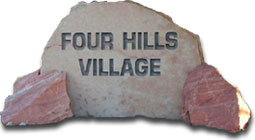 WELCOME TO THE FOUR HILLS VILLAGE
NEIGHBORHOOD ASSOCIATION
a City-recognized association
Our purpose
To promote the general welfare and well-being of residents and property owners in Four Hills Village (FHV)


To reflect their majority consensus, and


To facilitate the involvement and opinions of its membership.
Although the FHV Neighborhood Association does not charge dues for membership, we gratefully accept voluntary contributions to offset costs. Donations can be made via a secure PayPal transaction (button at left) or sent to FHVNA, PO Box 51205, Albuquerque, New Mexico 87181-1205.
Destruction of the Neighborhood Association
Remember driving home to find speed humps littering our streets? This was due to Roger Mickelson, then-president of the Four Hills Village Homeowners' Association, lying to City Hall about how the "vast majority" of FHV residents were in support of them. In response to this, we created The Four Hills Village Neighborhood Association, a democratic alternative to the Homeowners' Association. Instead of a few board members deciding what the whole neighborhood wanted, we created online polls to determine what the neighberhood
really
wanted, and forwarded that information to the City. In this way, we succeeded in stopping medians in Four Hills Village, adding a soon-to-be-opened family park, and advocating for street repair.
Taking advantage of the upheaval after the departure of our long-time president Ed Barsis, president Herb Wright (former ousted president of the Homeowners' Association) now wants to "merge" the HA and NA, relegating the Neighborhood Association to just the "whims of a few." An odd sentiment for the president of an organization! He believes that a majority in FHV will "rejoice" at the merger of these two disparate associations. Yes, just like the "vast majority" wanted the speed humps.
In addition to lying to the City and forcing dangerous speed humps on us, the Four Hills Village Homeowners' Association instigated the failed (and expensive) taxpayer-funded recall attempt of City Councilor Don Harris, bullied homeowners into believing they could enforce covenants, and actually
charged
new homeowners for bogus covenant "inspections." If we do not save our Neighborhood Association, this is who will represent us to the City. Perhaps people have forgotten what this kind of "representation" did to us, and don't care that the Neigborhood Association will cease to exist, if so, do nothing and it will.
If, however, you do want a neighborhood association that accurately represents you in matters of importance to our neighborhood, contact
Herb Wright
, 922-0976, and FHVHA president,
Paul Fier
, 263-7059, and let them know.
Rebecca Loring,
founding member of the FHVNA