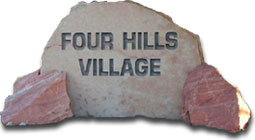 WELCOME TO THE WEBSITE OF THE FORMER
FOUR HILLS VILLAGE NEIGHBORHOOD ASSOCIATION
once a recognized neighborhood association
NB: This is the website of the former Four Hills Village Neighborhood Association, which was dissolved by its president, Herb Wright, in August 2015 (see below). Since there is useful information here, I refuse to be intimidated into taking it down by bullies who use threats to try to get their way.
Crocodile Tears From the Man Who Destroyed our Neighborhood Association
August 3rd, 2015
"Good afternoon,
At the advice of the New Mexico Secretary of State and the City of Albuquerque - Office of Neighborhood Coordination, it is with deep sadness and a heavy heart that I report the demise of the Four Hills Village Neighborhood Association. Articles of Dissolution for Four Hills Neighborhood Association were signed by the remaining officers and faxed to the offices of the NM Secretary of State and the City of Albuquerque Saturday. The hard copies along with checks (for filing) were mailed this morning.
On the advice of our attorney Jim Ellis, Ms. Loring will be receiving a letter (first step) from the board of the FHVNA Association asking for an immediate shut down of the FHVNA website as the organization no longer exists. The letter states that you have 5 working days to shut the site down and if you do not comply, he will file an emergency restraining order to "cease and desist". [sic] Within 10 days, there will be a court hearing.
He has also advised that ones [sic] comments about individuals on the Web site, and in e-mails sent to multiple parties, constitute Libel (written communication) - not slander (verbal communications) and make the responsible person subject to a law suit.
Regards,
Herb"
Updates
City of Albuquerque's Planning Department's Report on issues Facing ABQ/BernCo

[08/20/15]
Welcome Shane Rogers, New APD Foothills Area Commander

[08/08/15]
Policy & Procedures Regarding Covenants and Architectural Control

[06/18/13]
Plans