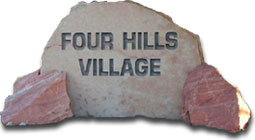 WELCOME TO THE FOUR HILLS VILLAGE
NEIGHBORHOOD ASSOCIATION
Our purpose
To promote the general welfare and well-being of residents and property owners in Four Hills Village (FHV)


To reflect their majority consensus, and


To facilitate the involvement and opinions of its membership.
Welcome
It's easy to participate in the Four Hills Village Neighborhood Association, just
email us
or complete our short
information form
. Dues are optional, but are very much appreciated to defray our overhead. You can mail voluntary dues to: FHVNA; P.O. Box 51205; Albuquerque, NM 87181-1205.
Strange Newsletter
[November 28th, 2015] We just received an odd, unsigned newsletter (below), with no return address, supposedly from "The former Four Hills Village Neighborhood Association." It refers to the "FHVNA Leadership Team," which can only mean then-president, Herb Wright, and then-secretary, Marilou Cochran, because they had illegally "voted out" everyone else.
It tries to justify dissolving the Four Hills Village Neighborhood Association to merge with the other neighborhood association. At no time did they "take this agreement back to the respective Associations for final agreement." They did not notify
any of they officers
they illegally removed from the Leadership Team--or anyone else--of this ill-conceived idea. These two alone decided to do this, then were surprised that the Four Hills Village "Homeowners" Association didn't honor their agreement.
It's unclear what they hope to gain by sending this message, but
it did not come from the Four Hills Village Neighboorhood Association
, which has
re-formed
and will have our annual meeting next Saturday, December 5th, 2015. All are welcome to attend.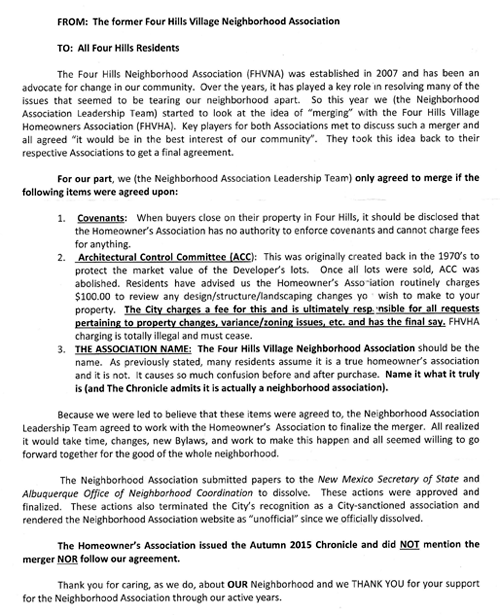 Neighborhood Updates
NMDOT District 3 Traffic Report - 10/30/15
(pdf) [11/05/15]
NMDOT District 3 Traffic Report - 10/23/15
(pdf) [10/26/15]
City of Albuquerque's Planning Department's Report on issues Facing ABQ/BernCo
(pdf) [08/20/15]
Welcome Shane Rogers, New APD Foothills Area Commander
(pdf) [08/08/15]
Policy & Procedures Regarding Covenants and Architectural Control
(pdf) [06/18/13]
Plans
Rio Metro Draft Transit Plan
(pdf)