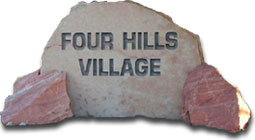 WELCOME TO THE FOUR HILLS VILLAGE
NEIGHBORHOOD ASSOCIATION
a City-recognized association
Our purpose
To promote the general welfare and well-being of residents and property owners in Four Hills Village (FHV)


To reflect their majority consensus, and


To facilitate the involvement and opinions of its membership.
Although the FHV Neighborhood Association does not charge dues for membership, we gratefully accept voluntary contributions to offset costs. Donations can be made via a secure PayPal transaction (button at left) or sent to FHVNA, PO Box 51675, Albuquerque, New Mexico 87181-1675.
---
Neighborhood Alerts
July 28th, 2014: The New Mexico Department of Game & Fish has issued a
warning
about
plague activity in the East Mountains. According to their statement, "Plague is a bacterial disease of rodents and is generally transmitted to humans through the bites of infected fleas, but can also be transmitted by direct contact with infected animals, including rodents, wildlife and pets...Symptoms in cats and dogs are fever, lelethargy and loss of appetite. There may be swelling in the lymph node under the jaw." If your dog or cat exhibits these symptoms, take them to your vet immediately.




The announcement goes on to state, "Symptoms of plague in humans include sudden onset of fever, chills, headache and weakness. In most cases there is a painful swelling of the lymph node in the groin, armpit or neck areas. Plague can be treated with antibiotics, but infected people and animals must be treated promptly to avoid serious complications or death. Physicians who suspect someone might be infected with plague should promptly call the New Mexico Department of Health at (505) 827-0006."


---
Recent Updates
Security Report

FHVNA Policy & Procedures Regarding Covenants and Architectural Control

Plans