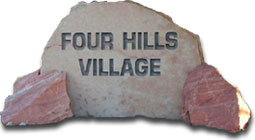 WELCOME TO THE FOUR HILLS VILLAGE
NEIGHBORHOOD ASSOCIATION
a City-registered* Neighborhood Association
Our purpose
To promote the general welfare and well-being of residents and property owners in Four Hills Village (FHV)


To reflect their majority consensus, and


To facilitate the involvement and opinions of its membership.
Welcome
It's easy to participate in the Four Hills Village Neighborhood Association, just
email us
or complete our short
information form
. Dues are optional, but are very much appreciated to defray our overhead. You can mail voluntary dues to: FHVNA; P.O. Box 51205; Albuquerque, NM 87181-1205.
Be Prepared for Winter Travel
Precautions from
Bernalillo County
Winterize your car and keep it well maintained.




Always travel with at least half of a tank of gas.




Never leave your home without a charged cell phone.




Tell someone your route and when you are expected to arrive.




Know where you are going and avoid unfamiliar routes during inclement weather.




Check the weather before you travel.




Check the road conditions.
Road Condition Updates
Road Advisory Hotline, call 511




Check nmroads.com (pdf) for latest road conditions; sign up for email/text alerts by downloading their mobile app




For information about NMDOT snow removal schedules, call (505) 222-6590
(pdf) including information on winter storms, auto theft advisories and crime & safety tips.
(pdf) an application for an air permit modification being submitted to the Albuquerque Environmental Health Department Air Quality Division for Air Quality Permit #1786-M2 on Kirtland AFB. [11/30/15]
*the difference between a City-recognized and City-registered Neighborhood Association is one of name only: both file the same paperwork, both are approved by the City of Albuquerque, and both receive the same notifications.