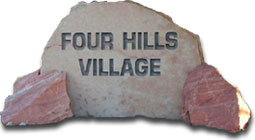 WELCOME TO THE FOUR HILLS VILLAGE
NEIGHBORHOOD ASSOCIATION
a City-recognized association
Our purpose
To promote the general welfare and well-being of residents and property owners in Four Hills Village (FHV)


To reflect their majority consensus, and


To facilitate the involvement and opinions of its membership.
Although the FHV Neighborhood Association does not charge dues for membership, we gratefully accept voluntary contributions to offset costs. Donations can be made via a secure PayPal transaction (button at left) or sent to FHVNA, PO Box 51675, Albuquerque, New Mexico 87181-1675.
---
Neighborhood Alerts
Nov. 1, 2013: According to APD, alert Enchanted Park neighbors interrupted a burglary in progress, when they heard breaking glass at a nearby home. Their excellent eye-witness information led APD to quickly apprehend the offenders in the middle of another burglary in FHV, while the victim was home asleep.
These burglars had used the 'door-knocking' gambit to ascertain if the home was occupied. APD suggests that if a stranger comes to your door, acknowledge that you are home but don't open the door. They also recommend that you post a "no solicitors" sign near your door. If the stranger becomes aggressive, seems to be casing your home or others', or doesn't leave when asked, don't hesitate to call 242-COPS (2677).
---
Recent Updates
Security Report

FHVNA Policy & Procedures Regarding Covenants and Architectural Control

Plans