FOUR HILLS VILLAGE NEWS
Gas Work in FHV beginning November 21st
NM Gas Company
will be repairing FHV gas lines
November 21st - 28th
, then again
December 5th
until the work is completed. The work will be done by their contractor, JEDOR Utilities. The areas affected are in the
NW
(pdf) and
central
(pdf) parts of FHV.
Potential affects include
lane and sidewalk closures




detours




two - five daily outages, which will be only at the house being repaired




service will be cut off in the morning and restored in the afternoon




someone over 18 must be available for relights in the afternoon



Please
contact us
with any questions or problems.
Dog Head Forest Fire
Recent Updates
BernCo's 06/22/16 Fire Map
(pdf)
BernCo's 06/21/16 Emergency Management's Situation Report
(pdf)
BernCo's 06/20/16 Emergency Management's Situation Report
(pdf)
BernCo's 06/16/16 Emergency Management's Situation Report
(pdf)
[June 16th, 2016] Although the current location of the fire is south of FHV, it always pays to be prepared and develop a plan for your animals and create a "go bag," in case of sudden evacuation. Note that once you leave a mandatory evacuation area, you will not be allowed back in until the emergency has passed. Bernalillo County's
information on emergency preparedness
(pdf), including items for a "go bag."
Anonymous False Newsletter
[November 28th, 2015] We just received an odd, unsigned newsletter (below), with no return address, supposedly from "The former Four Hills Village Neighborhood Association." It refers to the "FHVNA Leadership Team," which was then only Herb Wright and Marilou Cochran, since they had illegally "voted out" other officers.
It seeks to justify dissolving the Four Hills Village Neighborhood Association to merge with the other neighborhood association. At no time did they "take this agreement back to the respective Associations for final agreement," as they state. They did not notify or receive approval from
any of the officers
they illegally removed--or anyone else--of this ill-conceived idea. These two acted alone and were surprised that the Four Hills Village "Homeowners" Association didn't honor their agreement.
It's unclear what they hoped to gain by sending this message, but
it did not come from the Four Hills Village Neighboorhood Association
, which has notified the City of Albuquerque Office of Neighborhood Coordination that we have
re-formed
and remains in good standing with the State of New Mexico. We want to end this drama and return to helping our beautiful neighborhood. We have many ideas for our next year, and hope that you will attend our free and open annual meeting next Saturday, December 5th, 2015, to hear about them. All are welcome.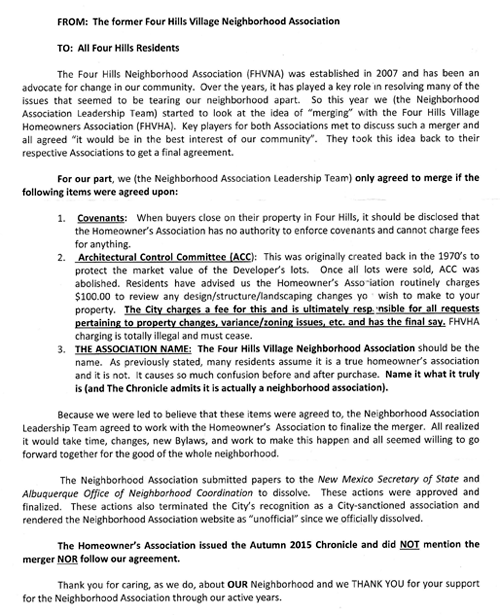 Crime Prevention Tips
We've received these crime prevention reminders from the Foothill Area Command:
Do Not leave a vehicle running and unattended. Every year we have cars stolen after the owner starts the car and goes back inside to stay warm or retrieve something.


Be Alert! Keep your head up, shoulders straight and be looking around. Do not walk through a parking lot on your cell phone or looking through packages or a purse. This behavior tells a criminal that you would make a good victim. Before you leave the store put your money/wallet away and get your keys ready. Please be aware of your surroundings to prevent someone from viewing you as a potential victim for a robbery.


Do not leave anything of value in your car. Secure belongings in the truck. Lock your doors. Anything that can be seen can be stolen. Open doors are (in a criminal's mind) an invitation to rummage through your vehicle.